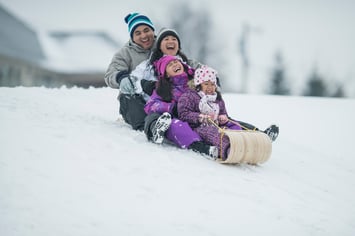 With the chaos of the holidays upon us, it can be hard to keep your priories in order. It's important to make a conscious effort about living in the moment and enjoying spending time with your loved ones. Here is a to-don't list of things to keep out of your holiday season.
FEEL GUILTY ABOUT SAYING NO
There's only so much time to get stuff done throughout the day and the holidays are no different. Chances are that you will find yourself being pulled in a dozen directions at once with everything that is going on. When events and tasks start popping up, prioritize what is important to you and say 'no' to everything else.
OVER-PLAN
You want the holidays to go as smoothly as possible, so you may find yourself making several plans for everything you want to happen during the holidays. However, at a certain point, there's nothing left to plan and you're just adding unnecessary stress into your life. Alternatively, try to be flexible when things don't go according to your plan. There's no point in letting yourself get upset over something that won't matter in a few months time and just spoil your holidays now.
BE ON YOUR PHONE 24/7
Set limits on how much you will use technology during the day. For example, try and make it a goal to put your phone away at 7 PM, or only use it for emergencies, so you can focus on friends and family with whom you may be spending time. If possible, come up with a plan with your team at work to minimize the amount of correspondence needed over the holidays.
OVERSPEND
It's really easy to overspend when you're constantly being bombarded by ads for sales and specials through every medium imaginable. Don't start the new year by digging yourself a financial hole that is hard to get out of. Stick to your pre-planned budget throughout the holidays and don't fall victim to those last minute deals that may present themselves.