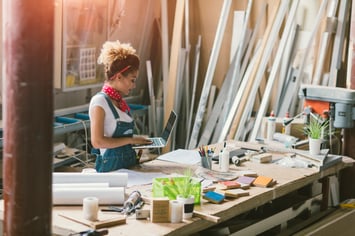 CHECKING ACCOUNT
When you're just starting out, you may find it convenient to use your personal checking account to conduct business. However, once your business begins to grow, having a separate checking account that is exclusively for your business becomes extremely important. When it comes to taxes, having everything separate will save you from extra work and stress. Additionally, a business checking account will allow you to accept checks that are made out to your business. Cyprus Credit Union offers a variety of business checking accounts, so you can find the one that best suits you and your business.
CREDIT CARD
Having a card that is exclusively for your business makes it easier to track expenses. A business credit card may also feature a higher limit than a personal card allowing you to do more for your business. With a Visa Awards Business Card from Cyprus Credit Union, you'll earn points for every dollar you spend on your purchases.
MERCHANT SERVICES
When accepting or sending electronic payments, you'll want to make sure that you select a service that is both easy to use and secure to protect financial information. When a customer uses a credit card to make a payment, you can designate which account you want the funds deposited using your merchant services. To set up a merchant account, you will need a credit card merchant account, a bank account, and a way to process payments.
BOOKKEEPER
If you don't have the time or ability to oversee the financial aspect of your business, it may be helpful to hire a bookkeeper. A bookkeeper's job is to handle day to day tasks regarding your company's finances. This includes payroll, submitting invoices, tracking expenses, paying bills, etc. If you need help with bigger picture items, such as taxes, it may be helpful to reach out to an accountant.
BUSINESS EXPERT
If you aren't sure where to start when it comes to your business or just need someone to lend a helping hand for an expanding business, an expert can help guide you. At Cyprus Credit Union, our Business advisors are here to help make sure you're making the best decision for your business.
Cyprus Credit Union provides the tools and solutions necessary to take your business to the next level. This means you can spend more time on your business and less on your bank account. If you would like to set up a free consultation with one of our advisors, call (801) 260-7600 ext. 5270 or email businessservices@cypruscu.com.