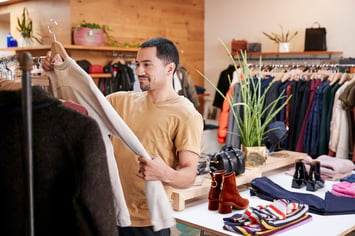 Making a bigger ticket purchase requires a little more thought than your average, everyday shopping. Ensuring that you're making a smart decision requires asking yourself some questions. Here are five more questions to ask yourself before a purchase.
The first part of our 'questions to ask yourself' series can be found by clicking HERE.
CAN I PURCHASE IN CASH?
If you've saved up for an item and can make the purchase with cash, your budget will most likely be fine. A credit card shouldn't be used to make a purchase in order to supplement cash you don't have or don't have a plan to pay off.
IS THE HIGHER PRICE WORTH IT?
Sometimes, you need to look at the overall investment value of an item. While a similar item might be less money, it might need to be replaced sooner costing you more money in the long-run.
HAVE I DONE MY RESEARCH?
Before any major purchase, you'll want to do your research so you can make it's the right fit for you. Read products reviews and reach out to friends and family who have purchased similar items.
WILL I NEED TO GIVE UP SOMETHING ELSE?
When saving for a bigger purchase, you may have to make sacrifices elsewhere in your budget. Take a look at your 'wants' budget and see if there are any cuts you can make.
WILL I STILL WANT THIS IN A WEEK/MONTH/YEAR?
Many purchases are made spur of the moment. With a bigger purchase, or something you just really want but don't necessarily need, you really need to take the time and examine how this item will pay a role in your future. Look at your life down the line, will that trendy, expensive jacket still be something you want to wear in a year's time?