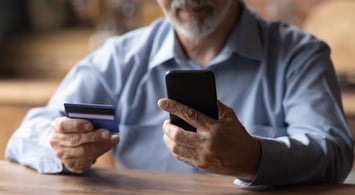 The elderly population is growing. Along with that growth, elder fraud has become increasingly visible. Elder fraud is the act of seeking financial gain by scamming a specific group of people: senior citizens. Here is some information on what puts senior citizens at greater risk for fraud, what you can do to protect yourself and your loved ones, and how to report elder fraud.
Why are seniors at risk?

Although anyone can fall victim to a scam, there are a few factors which make elderly individuals prime targets. They are more likely to have money saved for retirement or to give as inheritance. Scammers also find senior citizens to be more trusting. Finally, seniors are less likely to report fraud because they may be embarrassed or simply not know how to get help. They may also be concerned that their family members will not trust them to independently live or handle their finances.
How to Protect Yourself
Never give out personal or banking information to anyone you do not know or trust.
Be careful when answering phone calls from phone numbers you don't recognize.
Be cautious if you decide to respond to emails or messages from people you don't know.
Pay attention to how you feel. Does the person you are speaking with make you feel afraid or pressured to give out personal or financial information? If so, stop and don't be afraid to call the police or someone you trust.
If someone calls claiming to be from the IRS or other government agency, keep in mind that government offices will usually contact you by mail. They should not ask you to give out personal or banking information over the phone. Hang up when in doubt.
How to report fraud
To report elder fraud—or if you suspect elder fraud may be taking place—you can do one of the following:
Call the National Elder Fraud Hotline at 833-372-8311 (or 833-FRAUD-11).
Reach out to the nearest FBI field office. Click here for more information.
File a report to the FBI's Internet Crime Complaint Center by clicking here.
Submit an online tip to the FBI by clicking here.
If you have had money taken from your bank account or suspect your account is being targeted by scammers, you should also reach out to your financial institution for assistance as soon as possible.