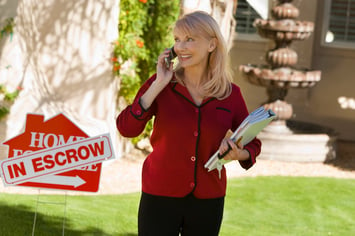 As you go through the home buying process, the word 'escrow' will come up in many different contexts. Here is a brief explanation of what this term means as well as how it relates to the mortgage process.
WHAT IS ESCROW?
Escrow is the method of how money is held during the home buying process. It is held by a third party during the home purchase process. It is seen as 'earnest money' as the buyer's intention to go through with the sale and the seller takes the home off the market.
HOW DO I GET AN ESCROW ACCOUNT?
When you apply for a mortgage from a financial institution or lender, an Escrow account will also be opened. This is a short-term account and will be closed once the home buying process is complete. At this time, a second account will opened and this is where expenses related to Escrow will be held throughout your loan.
HOW MUCH MONEY DO I NEED?
The average amount needed for an Escrow account is usually 1% to 2% of the home's final purchase price.
WHAT HAPPENS WITH THIS MONEY?
Once the closing process is over, several things can happen to the money. It can go towards the down payment, real estate agent commissions, property taxes, mortgage interest, insurance, and more.
WHAT HAPPENS IF THE SALE FALLS THROUGH?
There are several reasons why the sale of the home may fall through and as a result, the earnest money may go different places. For example, if the buyer simply changes their mind, the money may default to the seller. However, if the home doesn't pass inspection or isn't appraised for the offered value, the buyer may have their Escrow money refunded to them.