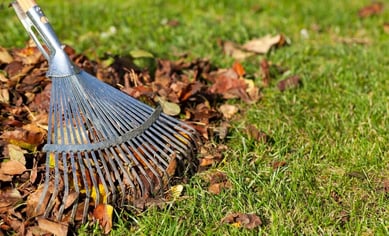 Autumn officially starts tomorrow. While you may be looking forward to cooling temps and catching a football game or two, there are a few things you need to do around the house before winter hits. Let's take a look at this checklist to make sure you're good to go!
CLEAN GUTTERS
This will prevent ice dams in you gutter, causing water to leak into your home. Make sure to also keep your eyes open for missing and damaged sections. Your gutter's downspout should be directed so that water runs at least 4 to 5 feet away from the foundation.
GARDEN PREP
You've spent all summer keeping your yard in prime condition, but now it's time to prepare it for the long winter ahead. Remember to keep up on your raking & mulching so the lawn isn't smothered. Clear all of the old plants to make room for the new, but leave the roots as these will help enrich the soil. Don't forget to shut off the exterior water to prevent freezing pipes. You can empty out the pipes by disconnecting the hoses and allow the remaining water to drain.
CHECK THE ROOF
With autumn comes the potential for snow. The last thing you want is melting snow leaking through your roof. Check for any missing or loose shingles. It's a lot cheaper to fix a few shingles than an entire roof and interior water damage down the line. If you are able to afford it, have a roofing contractor come out and take a look.
FIX WINDOWS
Make sure there are no leaks or holes in your window frames that could let heat escape during cold nights. This will help keep your electricity bill down when you're consistently running your heater. This can be a simple fix using a little silicone caulk to fill in the gaps. Anything that is bigger than the width of a nickel should be repaired.
DRAIN & WINTERIZE OUTSIDE FAUCETS
Water left in the pipes during the winter can freeze and cause the pipes to burst. First, close the shut-off valve for the faucet. Then, disconnect all of the hoses and store them somewhere safe to prevent damage. Once the hose is gone, turn on the faucet and allow the remaining water to drain.
ROTATE FAN
Your ceiling fan may currently be running counter-clockwise to help cool your home. By flipping it back to clockwise, you can use your fan to heat up those rooms with high ceilings by pushing down the warm air. This method can allow you to lower the temperature in your home by a few degrees, saving you money.
TEST HEATER
Before those late-night chills hit, conduct a test run on your furnace. If something isn't quite right, call a repairman (the earlier, the better). If you postpone for too long or it breaks down in the middle of a cold night, you may find yourself on a pretty lengthy waitlist.
CHIMNEY SWEEP
There's nothing better than a warm fire on a cold, snowy night, but is your fireplace ready? Make sure the chimney is clean and that all of the vents are cleared and in good condition. A clogged chimney can lead to chimney fires and carbon monoxide leaking into your home. A professional can come take a look at your fireplace and chimney if you are unsure of how to check it.
It's important to take steps like these to protect your biggest investment, your home. If you find yourself needing a little extra money for those extra projects, a 2nd Mortgage or a Home Equity Line of Credit are great options. If you would like to learn more about these, contact one of our loan advisors at (801) 260-7700 or check out our mortgage center for more details.