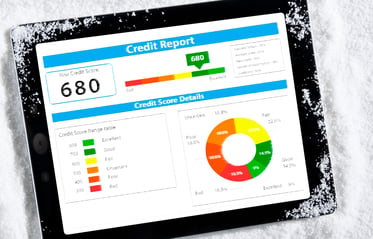 Identity theft is big business. While almost 1.4 million reports of identity theft were received by the Federal Trade Commission in 2021 (FTC.gov), the actual number of ID theft victims is likely much higher, with Javelin Strategy even stating that "the total identity fraud impact [in 2021] resulted in $52 billion in financial loss affecting 42 million U.S. consumer victims" (JavelinStrategy.com).
If your identity is ever stolen, one of the first things you'll want to do is place a security freeze or "credit freeze" on your credit. This will restrict access to your credit report and help to prevent a bad situation from turning worse.
What Does a Security Freeze Do?
One of the big risks with ID theft is that thieves could use your information to apply and get approved for credit accounts. This has the potential to negatively affect your credit history and score. While such effects can be resolved, it's definitely worth a try to prevent the headache of repairing credit damage in the first place.
This is where freezing your credit comes in. Placing a security freeze on your credit helps to prevent identity thieves from opening new credit accounts under your name. This is because your credit report will be blocked whenever potential creditors attempt to access it during the application process.
What DOESN'T a Security Freeze Do?
A security freeze:
Does not prevent identity theft. While freezing your credit can help prevent new credit accounts from being opened under your name, it doesn't stop bad actors from assuming your identity in order to apply for them. The problem is that you might not realize your identity has been stolen until someone has opened an unauthorized credit account under your name. For this reason, it may not be a bad idea to preemptively freeze your credit. You can always "thaw" or remove the freeze when you need to.
Does not prevent your credit report from being accessed by those with a permissible purpose, including (but not limited to) yourself, insurance underwriters, debt collectors, government agencies, utility companies, and landlords who are reviewing a rental application.
Does not affect your credit score.
Does not impact your preexisting loans, lines of credit, or bank accounts.
How Do I Freeze & Thaw My Credit?
To request a security freeze on your credit, you'll need to reach out to each of the three primary U.S. credit bureaus individually: Equifax, Experian, and TransUnion. Notifying just one of these bureaus will NOT automatically notify the others. The same rule applies if you'd like to remove a security freeze. The contact information for each of these credit bureaus is provided below.
Are There Costs or Limitations to Freezing My Credit?
No. You can freeze and thaw your credit whenever you like for free. Prior to 2018, the question of whether or not you had to pay for a security freeze (and the amount of the fee) depended on which U.S. state you lived in. These fees were discontinued across the country after the passage of the Economic Growth, Regulatory Relief, and Consumer Protection Act.