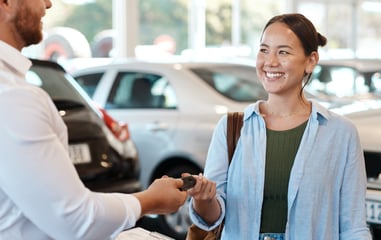 Getting a great deal has a lot to do with timing. Whether it's clothes, electronics, or even a house, the price you pay has a lot to do with when you buy. Here are a few common purchases you could be saving on.
APPLIANCES
The new models of household appliances are often released starting in the fall, making stores lower prices on some of the older models they still have available. If you're okay with missing out on a few bells and whistles, this could save you a fair amount of money.
HOUSES
With real estate, it's important to remember that the hotter the weather, the hotter the market. Most homes are sold in the summer, increasing the competition you'll face during your home search. If you're willing to move once the weather cools, you may have to work with a smaller number of options, but the home prices could be more affordable.
CARS
It's not uncommon to get a better deal if you go to the dealership on a weekday as opposed to a weekend. The exception to this may be if a dealership is having a sale on a holiday weekend. You can also find a better deal if you wait until dealers are clearing out old models to prepare for new vehicles to arrive. This tends to happen in the fall. If you wait too long, however, you could be stuck with a smaller selection that doesn't quite have what you're looking for. Be aware that while this method could save you money upfront, your car will be a year old when you purchase it, affecting the resale value. Other good times to buy are at the end of the month, quarter, or calendar year, as these time periods often coincide with dealerships' sales deadlines.
GRILLS
There's nothing better on a warm summer night than a barbecue in the backyard. If your grill could use a bit of an upgrade, however, wait until the temperatures drop before making your purchase. Stores will lower their prices on grills in order to clear out space for the next set of models, making it a good time to buy.
ELECTRONICS
Some of the best times to purchase a new T.V. include Black Friday or early in the year when everyone's gearing up for the big game. If you need a new laptop or computer, start shopping in mid to late summer when the back-to-school sales start up.
CLOTHING
Buying clothing off-season can help you save tons of money. If you're worried about looking out of style, start by selecting basic pieces; then, you can splurge on a couple of trendier items later. The more classic staples you have in your closet, the less you'll have to go shopping.
MATTRESSES
If your old mattress is affecting your quality of sleep, it may be time to invest in a new one. Check out the deals that usually happen around Memorial Day when retailers are getting ready to bring in new stock. Remember to research the return policy so you don't end up with a mattress you're not satisfied with.
HOLIDAY DECORATIONS
We all know about the treasure trove of clearance candy after Halloween, but have you ever thought about buying other holiday items? Lights, decorations, ornaments, wrapping paper–these are just a few of the things that stores try to get off their shelves following a holiday. Shopping in advance can also give you peace of mind as the holiday chaos kicks in, because you'll already have everything you need.