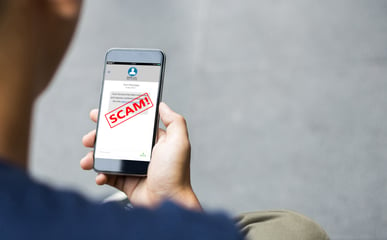 The financial service industry has noted an increase of attempts from scammers to access personal account information. These attempts will often take the form of text messages, phone calls, emails, or direct messages on social media. By posing as a member's financial institution, scammers can try convincing potential victims to provide sensitive account information. This can include card PINs, passwords and usernames to online banking accounts, account numbers, social security numbers, and more.
Regardless of what form a scam may take, remember that Cyprus Credit Union will never ask for your personal information unless you are initiating contact with us (make sure you have our correct contact information) or we are responding to your call or email (in which case, you should be expecting us to reach out to you).
If you are ever unsure whether or not the person contacting you is really a representative of your credit union or bank, always play it safe. If you've received a suspicious email, text message, or direct message, do not respond immediately and do not click on any hyperlinks. If you are on a suspicious phone call, hang up and do not provide any information. Instead, reach out to your financial institution yourself. Cyprus members can call Cyprus Credit Union at 801-260-7600 and speak to a representative with any question or concerns they have.
To learn more about fraud prevention and what red flags to watch out for, click HERE.