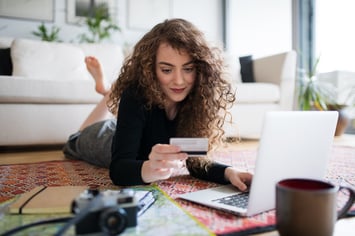 As a small business owner, you've come up with a great product and/or service to make money. Now the question is, what's the best way to complete transactions with your customers? With technology ever evolving, more and more electronic payment options are becoming available all of the time. Here are some of the pros when it comes to electronic payments for your business.
SAVES TIME
E-Payments can be combined with your existing accounting software, helping you save time when it comes to managing your money. You also won't need to spend the time depositing checks and cash at your local financial institution.
ADDED CONVENIENCE
If they have to jump through a ton of hoops to make a purchase, a customer is more likely to take their business elsewhere. Making the payment process as simple as possible makes it more likely they will take advantage of your product or service.
MORE SECURITY
When payments are made electronically, the money moves from their account to yours instantly, reducing the risk of bounced checks or theft. Additionally, shielding your customer's information should be one of your top priorities as a business owner. By implanting e-payments, you can ensure both parties are protected throughout and after the transaction takes place.
BUILD BUSINESS
When you can track where spending is coming from, you can start loyalty programs to better serve your returning customers. It also makes it easier on customers if they'll be purchasing your product multiple times when they can save their payment information.