As a preteen, your child's relationship with money will largely involve observing how money works, playing make-believe with money, and saving what they've earned from completing simple tasks (check out our previous blogs for more on this). Once they're in their early teenage years, they'll be ready to move on to the next steps of their financial education.
Using Cash
As a young teenager, your child may be ready to begin handling more cash and making purchases on their own. Help them set a realistic budget and consider offering increased pay for larger chores. Placing them on an initial cash-only budget can help to keep them from overspending. In today's age, however, spending doesn't revolve around cash nearly as much as it has in the past. Instead, purchases are often made with debit cards, credit cards, or smart phones and watches. This reality can affect how you prepare your child for greater financial independence as they get older. With this in mind, you can decide how long they stick to a cash budget before introducing them to a debit card.
Debit Cards
As a joint-owner on your teen's account, they can experience using a debit card under your supervision. This is an excellent time to teach them that while using a card is convenient, it can also become easy to spend without paying attention to how much is actually available. While they can hopefully learn this without too much trouble, it's important to acknowledge that they might make mistakes. Help them to turn these mistakes into learning experiences.
A debit card can also be a good introduction to a teen credit card, though you may want to wait until high school to get them started with a line of credit. We'll talk more about this topic in our next blog post.
Special Offer
A great way to help star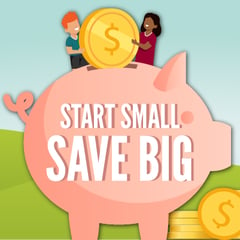 t your child's financial education is with a Cyprus Dollar Dog account. This account is ideal for kids aged 12 and under, and can help them learn the importance of managing money. In honor of Credit Union Youth Month, we'll give you $5 to get your child's Dollar Dog account running when you open it in April.
Another excellent savings tool is a Dream Certificate of Deposit (CD). Open a Cyprus Dream CD during April for your child aged 18 and under, and we'll match your initial deposit up to $25.
Click here to learn more about these offers. Give us a call at 801.260.7600 or visit any Cyprus branch if you have questions.