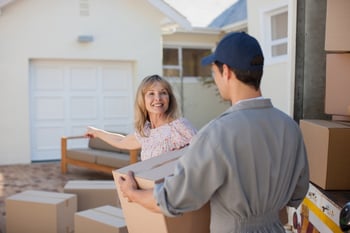 There's enough to worry about when it comes to moving and falling for a scam shouldn't be one of them. Here are some signs that you should keep an eye out for and be aware of while you are looking for movers:
If a mover provides an estimate without coming to look at your home and belongings, you should probably find a different mover. Even if you think you have a pretty good idea of your belongings, you don't want to end up with a mover deciding to change the price because you have more items than you thought you did.
If a mover demands payment upfront, be wary of hiring them. Most movers will not request payment or large deposits prior to the delivery to your new home.
Some movers will provide an estimate to those who are moving that's not in writing, and then, once everything is in the truck and on the way, they'll increase the price. This allows them to essentially hold your belongings for ransom until you pay them the higher price.
HOW CAN I PREVENT A MOVING SCAM?
Do your research. Make sure that companies haven't recently changed their name to avoid having to deal with complaints.
Ask for references. Ask people from your area that you know have recently moved who they used and what their experience was like.
Ask questions. The more questions you ask a potential mover, the better. If they have trouble answering or don't answer at all, continue your search.
Get everything in writing. There's nothing to stop a mover from reneging on a verbal agreement and making you pay more. Make sure you have a firm contract in place prior to your move and understand the liabilities for which you may be responsible. It may also be a good idea to get insurance for your move, just in case.