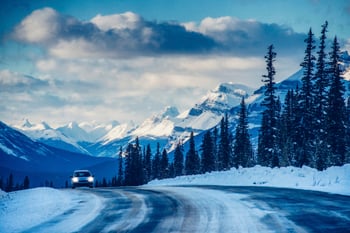 With the holidays quickly approaching, it's once again time for you and your family to make the annual drive to grandma's house. A road trip can be stressful enough but add in the unpredictability of winter and it's even more important to be prepared. Even with the added security of an auto club membership or roadside assistance, there's no guaranteeing your vehicle will break down where they can reach you right away, especially if the weather is bad or there's been a natural disaster.
Here is a list of things you might want to think about keeping in the trunk of your car, just in case:
Flashlight – To see in the dark and inside the vehicle
Battery Powered Radio – In case the car battery dies
Extra Batteries – For the flashlight & radio
Blanket or Sleeping Bag – In case you get stranded and need to stay warm
Jumper Cables – If your battery dies (or you need to help someone else)
Bottled Water & Non-Perishable Snacks
First-Aid Kit – For injuries and minor illnesses
Shovel – To dig your vehicle out of snow
Road Salt & Sand – This can be used to melt ice or create traction.
Boots – If you have to walk around in the snow
Rope or Chains – To tow your vehicle if you get stuck
Road Flares – To signal for help
Duct Tape – The ultimate all-in-one tool
Basic Tool Box – To help with any minor repairs
Extra Cell Phone Charger
Take your vehicle in for a quick check-up before hitting the road. This should include checking the tire's air pressure and the effectiveness of the wiper blades. If possible, learn how to change a tire and make sure you always have a spare in the trunk.
As an extra precaution, before leaving on any road trip, remember to leave your route and schedule with a family member or friend in case anything happens. Check in with this person periodically throughout the trip and let them know when you reach your destination.
So while you may not be able to control when and where your vehicle will break down, you can have peace of mind that you are prepared for whatever may come your way.