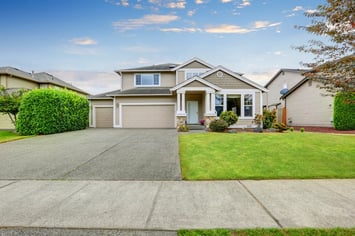 Think of curb appeal as your home's first impression to potential buyers. If the outside of your house is in bad shape, it may dissuade people from checking out the inside. Here are some ways that you can improve the appeal of your home before your open house.
HOUSE NUMBERS
A person can't look at your home if they can't locate it. Make sure the house numbers are clean and prominently seen from the street. If you don't have numbers, they can be purchased fairly inexpensively online and at home improvement stores. House numbers come in a variety of styles, so find some that fit your home.
TOUCH UP PAINT
Painting the trim and door can give your house an instant makeover. Choose colors that compliment the existing scheme. If siding or trim is falling apart or broken, take the time to replace it.
KEEP IT OPEN
While you may enjoy the privacy that your blinds and curtains provide, they should remain open for potential buyers when they arrive. This makes the home look more welcoming and provides natural light for when they walk through the house.
SPRUCE IT UP
Take the time to mow the lawn and weed the gardens before you take photos for listings and host open houses. If you don't have a garden, try using some smaller potted plants to add a little bit of color on your porch.
INSTALL LIGHTING
It's often recommended to buyers that they drive past the home during different times of the day. Installing some type of lighting to the outside of your home not only helps improve the appearance but also provides a form of safety.
ASK A FRIEND
As someone who looks at your house every day, you may not notice some of the little issues your home has. Bring a friend or family member over to walk around the outside of your home and point out some of the things you should fix.
If you need a little extra cash to fix up your home, consider a home equity line of credit. Similar to a credit card, you can gain access to money as you need it but at a much lower interest rate as compared to traditional loans. For more information, contact Cyprus at (801) 260-7600 ext.5340 or email mortgages@cypruscu.com.