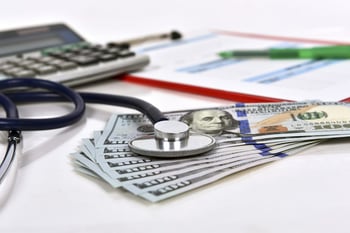 You go to the doctor for a checkup. You take your car into the mechanic for an inspection. You take your pets to the vet for an appointment. You even take your electronics in for a quick scan if they start acting differently. Why not do the same for your finances? Taking the time to make sure that everything is running smoothly and correctly can have several long term benefits for your future. Here are a few things that you should take a look at when checking your finances.
CREDIT SCORE
Obtain a copy of your credit report to see where your finances currently stand. There are three main companies from which you can request a free copy of your report: Equifax, Experian, and Trans Union. You are able to request a free copy from each company once every 12 months, which means you can get up to 3 free credit reports a year. A credit score is used as a predictor for how likely you are to go into debt or become dependent on credit. It can range from 300 to 850 with higher scores being better. If you are thinking about purchasing a home in the near future, your score should be at least a 620.
DEBT TO INCOME RATIO
This is how much you are spending compared to how much you are making. For example, if you are making $3,500 a month and typically spend about $1,500 on rent, utilities, groceries, etc. this will give you a ratio of 43% (1,500 is 43% of 3,500). Anything higher than 43% can make it difficult to receive a mortgage loan and other financing because it may appear to the lenders that you are living outside your means and will have trouble making payments down the line. If you are concerned about your ratio, sit down and create a formal budget to see if there are places where you can scale back in your spending.
RETIREMENT FUND
Make sure that you're maximizing your contributions to your IRA account, especially if your employer offers a contribution match program. If you are below the age of 50, you can max out at contributions in the amount of $5,500 annually and if you are 50 or older, you can contribute an additional $1,000. These donations also help to reduce your taxable income when tax season rolls around.
EMERGENCY SAVINGS
Ideally, you should have 3 to 6 months of living expenses saved up in case of unemployment, health issues, or any other unexpected occurrence. A great way to do this is to start saving is with a money market savings account through Cyprus Credit Union. These types of accounts feature a higher interest rate than a regular shared savings account, but there's no set term so you can withdraw money at any point without penalty.
LIFE CHANGES
Have there been any major changes in the last 6 months of your life? Maybe you got married, added a new member to the family, or have a child who graduated high school and is headed to college in the fall. These can all result in a change in your finances and perhaps you haven't made the proper adjustments to accommodate them. Specifically, have you changed your life insurance policy to go to your spouse, updated W-4s, started a college fund, or sat down with your teen to talk about financial responsibility as they leave home for the first time? These are all things you need to think about as you begin a new chapter in life.