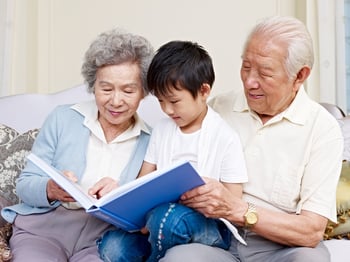 October is Family History Month. Making a purposeful effort to collect and cultivate your family history can be an amazing gift to pass down from generation to generation. One great way to preserve your history is by conducting an on camera interview with your older family members.
HERE ARE SOME QUESTION EXAMPLES:
What is your earliest childhood memory?
Describe your wedding day.
What's the best piece of advice you've ever received?
What's one thing you want your family to remember about you?
How did you meet your spouse?
Tell me about the pets you've had through your life.
Who was your favorite teacher in school?
What are some of your favorite hobbies? Both now and as a child.
Tell me about some of your friends growing up.
What's been your favorite/least favorite job?
How did (major event, war, etc.) affect you and your family?
What makes you happiest?
Where is your favorite place to go on vacation and why?
Where would you love to go that you haven't?
How did your parents meet?
What was it like growing up in __________________?
What do you remember about the day(s) your child(ren) were born?
Once you've recorded these interviews, you can generate copies for all members of your family or upload the video online.
Tip: Ask open ended questions as opposed to yes or no ones. This may lead you to a whole new topic you didn't even think about in your original interview questioning.